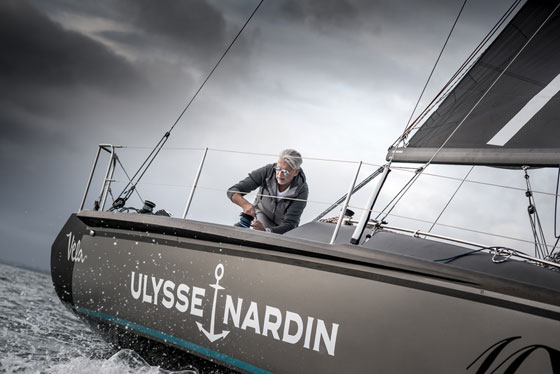 Ulysse Nardin is proud to partner with a new "Ulysses" in his transatlan-tic crossing. Dan Lenard, co-founder of the renowned Italian yacht de-sign firm Nuvolari-Lenard, has embarked on a journey aimed at raising awareness of the oceans' deterioration.
Ulysse Nardin has a new "Ulysses" onboard. Dan Lenard, co-founder of the re-nowned Italian yacht design firm Nuvolari-Lenard, departed on his daring adventure: a transatlantic crossing departing on January 20th from Cadiz, Spain and arriving at the Miami Boat Show around February 14th. Ulysse Nardin presented as one of the main sponsors. Dan's company specializes in the design of yachts for both private clients and shipyards. Based near Venice, the studio has created some of the world's most ac-claimed superyachts, winning every major award and becoming both prolific and highly sought-after yacht designers.
The aim of his journey is to raise awareness for the plight of the seas. Dan Lenard chose sailing, a 5000-year-old invention, because it is one of the modes of transport that were used by humans to explore the Earth. Today, his voyage is bearing witness to how polluted the seas and coastlines have become. Ulysse Nardin is proud to endorse Dan Lenard's mission, which he has called "Vela-Code". For this new Ulysses, this journey is a "distress signal on behalf of the ocean", calling for a need to reset how we treat our environment. We need focused initiatives, for both prevention and cure: prevention, through intelligent design of yachts and through education to highlight activities and behaviours that cause damage; cure, by taking responsibility for what we have done and devoting resources to repair the damage.
For Patrick Pruniaux, Ulysse Nardin's CEO, "our Manufacture's heritage has strong ties with the ocean. Being a part of this adventure is relevant to Ulysse Nardin's values and history."
Dan Lenard joins the Ulysse Nardin Armada of Explorers formed by free-diver and photographer Fred Buyle, sailors Sébastien Destremau and Romain Pilliard, snowboarder and surfer Mathieu Crépel and kite-surfing champion Alex Caizergues. Like the hero of Homer's "Odyssey", these modern-day Ulysses throw themselves into adventure, not afraid of the unknown and of the possible obstacles, following their dreams and ambitions.
Dan's true challenge on this journey is the fact that he is alone on his 33-foot-long sailboat, SCIA, without equipment such as an engine, any electronics, GPS, log, compass or autopilot. Dan's only gear will be the watch on his wrist, a Ulysse Nardin Diver Chronometer Great White, that will accompany him on his mission.
May 08, 2019