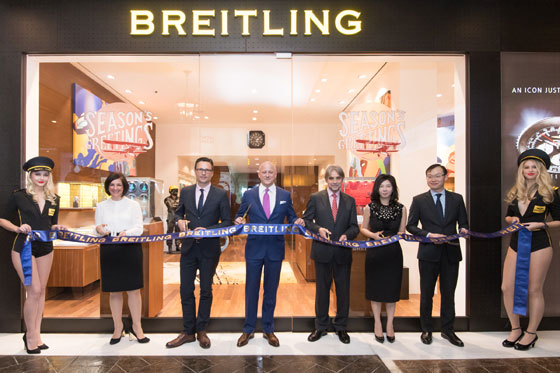 Established in 1884, independent Swiss watchmaker Breitling has played an important role in the development of chronographs and aviation timepieces, and has been known as a devoted partner of the aviation industry.
Breitling has expanded its boutiques network by opening two boutiques at Shoppes at Venetian and Shoppes at Parisian Macau respectively. Guests were invited to join and celebrate the grand opening of Breitling's new boutiques in Macau on 16th December 2016.
The boutiques at Shoppes at Venetian and Shoppes at Parisian display a large selection of models in the entire Breitling and Breitling for Bentley collections– notably including chronographs equipped with Manufacture Breitling movements, along with special limited "Boutique Editions." Each boutique also includes a VIP lounge, offering customers with an exclusive and personalised shopping experience. Designed in a modern and original style highlighting the brand's aeronautical heritage, the two Macau boutiques enable visitors to plunge directly into the Breitling universe, a unique experience that excites the senses. Sight, with highly contemporary décor combining sober wood, metal and the famous Breitling yellow together with the vivid colors of New York pop art painter Kevin Kelly. Touch, with comfortable seats on which the client can ask to see the models of his choice, presented on wing-shaped tables. Hearing, thanks to the sound of Radio Breitling playing an exclusive selection of chill music. And smell, with a subtle "ambiance" perfume created especially for the brand.
During the event, the guests could discover the latest model in the Breitling collection as well as try on the newly launched VR experience presented by Breitling. Exclusively available in the Breitling boutiques, a virtual reality headset allows the users to experience a flight aboard the Breitling Jet Team Albatros L-39C. The flight is taking place above San Francisco as if they were in the pilot's seat. A truly exciting experience for all visitors and customers stopping at the boutique.
December 20, 2016