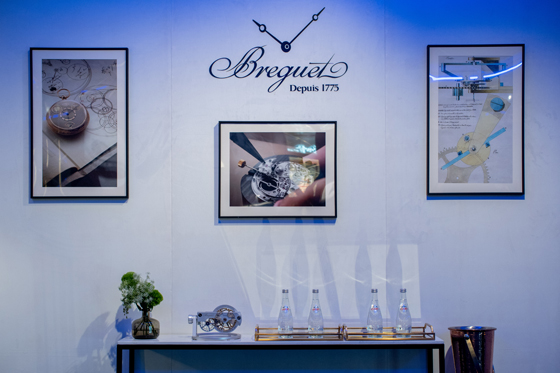 More than 220 years after its invention, the tourbillon is still generating as much fascination as it did then and remains, now more than ever, Breguet's main prerogative. Enhanced with the advancement of craftsmanship, the Tourbillon is now an exquisite mechanism as much as a defining artistic expression of watchmaking. K11 MUSEA, a new art-museum cultural phenomenon in town, making it the ideal venue for Breguet's Tourbillon showcase. The House of Breguet is collaborating for the first time with K11 MUSEA to host the "Breguet – Inventor of the Tourbillon" Pop-Up at Gold Ball, an iconic artistic structure featuring a unique industrial design and a perfect complement to the Tourbillon, from 23rd June to 13th July 2021.

Reminiscent of a Tourbillon carriage, the Gold Ball welcomes the visitors with a beautiful, enlarged Tourbillon model at the entrance, and leads them to go on a magnificent tour of detailed history and a showcase of Breguet Tourbillon creations, including the Classique Double Tourbillon 5345, displayed in Hong Kong for the first time, the Classique Grandes Complications 5359 Hong Kong Special Edition, the Classique Tourbillon Extra-Plat Squelette 5395, the Tradition Tourbillon Fusée 7047, and the Marine Équation Marchante 5887. To bring the experience to the fullest, visitors can enjoy the virtual voice navigation guided by radio host Maria Tang while entering the Tourbillon world. An art projection is set up for visitors to capture photos with a rotating Tourbillon and share to social media.

Breguet earned the patent for its Tourbillon on 26th June 1801, it continues to flourish at the House of Breguet, its custodian. However, it has also been adopted by a number of other watchmaking brands because when Breguet patented it in 1801, it did so for only 10 years. In the past 220 years, Breguet, the Tourbillon and the industry have undergone tremendous progress, which would not be possible without the invention of the Tourbillon and the passion of Mr. Breguet. Today, in honour of the inventor, the House remains an ardent devotee of the mechanism. Breguet will continue to inherit the tradition from our ancestors and open up new possibilities for Haute Horlogerie.
July 07, 2021