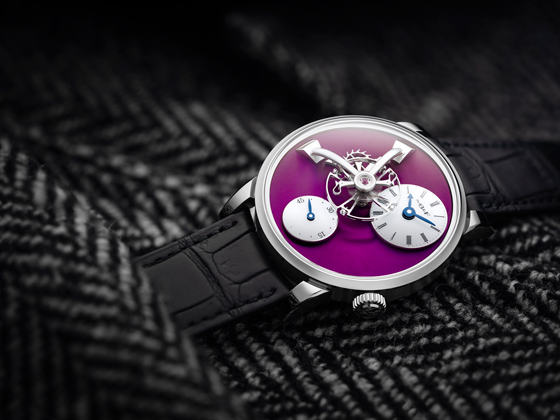 Operated in collaboration with Elegant Watch and Jewellery, the newly reopened MB&F M.A.D.Gallery Hong Kong is located at K11 MUSEA, the new cultural phenomenon in town, at Shop 502 on Level 5. Adjacent to the harbourfront, the new gallery is situated in Victoria Dockside, one of the city's most popular attractions that combine shopping, culture, art, and sightseeing. Designed in concord with the other three galleries in Geneva, Dubai and Taipei, the Hong Kong boutique features a simple and elegant atmosphere in a pleasant environment resulted from the white brick walls in the Gallery, allowing visitors to indulge completely in the world of mechanics and take their time to appreciate the characteristics of each art pieces in the well-lit space.
M.A.D.Gallery originated from the childhood dream of Maximilian Büsser, Founder of MB&F – a shelter for his favourite mechanical devices all in one place, where he can appreciate and play with them whenever he wants. M.A.D., in addition to the original meaning of the word "Mad", doubles as an abbreviation for Mechanical Art Devices. M.A.D. represents the "madness" that is imbued in each and every spectacular art piece inside the Gallery. The concept of M.A.D.Gallery has now evolved into a captivating universe of kinetic art where Horological and Legacy Machines by MB&F are situated in an appropriate context together with mechanical art devices created by the friends of Maximilian Büsser, discovering kindred spirits in the world of mechanical art.
Maximilian Büsser, Founder of MB&F, remarked, "M.A.D.Gallery is the perfect platform to showcase mechanical art devices, and K11 MUSEA, an attraction that combines humanities, art and culture, brings new possibilities to further realise our vision and our fans' imagination. In the past five years, M.A.D.Gallery has introduced many unique mechanical art devices to enthusiasts and become a rendezvous for exchanging of minds. Thanks to M.A.D.Gallery, we are meeting like-minded artists operating in parallel worlds; people who think like us and share our passion for creating mechanical art. We will continue to gather more exclusive mechanical art devices from around the world for our fans in the future."
M.A.D.Gallery Hong Kong currently displays a wide range of mechanical art devices including LM101, LMX, TriPod, and Project LpX created by MB&F as well as other art pieces by artists from different parts of the world, including Sculpture of Time A5-01 by Around Five, Slow Dance by Wonder Machines, ClockClock24 by Humans since 1982, and Disintegrating X by Fabian Oefner. Display items will be updated regularly. Please stay tuned to more intriguing mechanical art devices in M.A.D.Gallery Hong Kong. Mechanical art lovers and those who dare to dream are cordially invited to visit the Gallery.
May 17, 2021