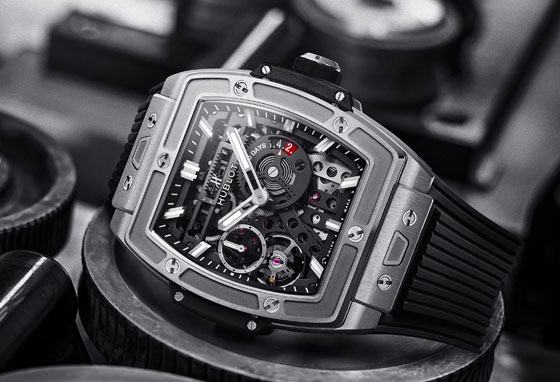 SPIRIT OF BIG BANG MECA-10
In today's fast-changing world, Swiss luxury watchmaker HUBLOT has not only continued to innovate in fine watchmaking in aspects such as materials and design, but has also been demonstrating its relentless dedication to be different by leveraging digital platforms. A new first for the Maison, on 13th April, the new Spirit of Big Bang MECA-10 Black Magic, limited to three pieces, was released via the HUBLOT WeChat Member Centre for HUBLOT members only. Hublotistas will have the chance to order their timepieces before it will be available worldwide. HUBLOT has reworked its famous MECA-10 factory calibre with a 10-day power reserve to combine it with the "barrel" design of its emblematic Spirit of Big Bang 45 mm collection. This cutting-edge encounter has given rise to the Spirit of Big Bang MECA-10. This is the first time that HUBLOT launches a watch via its WeChat Member Centre with buyers able to enjoy exclusive additional benefits, marking an innovative new move for both its watch releases and member service model.
As the first fusion between our popular MECA-10 calibre manufacture and the iconic Spirit of Big Bang design, this new watch – with an extraordinary power reserve of 10 days that is displayed in an innovative way – completes a collection that is gaining importance at HUBLOT. By releasing the timepiece via our WeChat Member Centre in China for the first time, HUBLOT has made a new breakthrough in digitalization.
Innovative Services, Unique Experience
Now that the mobile Internet has seamlessly penetrated people's daily life, digital platforms have already become a focus for all the brands. By releasing three pieces of the new Spirit of Big Bang MECA-10 Black Magic via its WeChat Member Centre for the first time, HUBLOT again exemplifies its constant pursuit for innovation. Through its WeChat Member Centre, the Swiss luxury manufacture provides its members with a flexible online service experience that breaks the limitation of time and space. In addition to learning about HUBLOT watches anytime and anywhere, members can now also gain access to a range of personalized services, including applying for free repair pick-up services in one click, extending warranties, remotely contacting technical and sales personnel, as well as enjoying exclusive benefits such as priority invitations to various exciting experience with HUBLOT. The buyers of these three watches will enjoy a four-year product warranty, moreover, each timepiece comes with an additional strap as well as an exclusive packaging box and a travel watch box engraved with the customer's name, honouring HUBLOT's promise of greeting its members with an exclusive VIP experience. More services will be also available through the HUBLOT WeChat Member Centre, including Exclusive Greetings, Personalized Watch Recommendations, Online Exploration, and Customize More Watches. Be First, Different and Unique. HUBLOT will continue its innovation to create a more comprehensive membership experience by deepening its efforts in the digitalization universe.
A dream alliance
Following the new Spirit of Big Bang MECA-10 Black Magic, released via the WeChat Member Centre, the other two versions of the Spirit of Big Bang MECA-10 in titanium and King Gold will be available in physical boutiques in the near future. By seeking to marry the round factory HUB1201 MECA-10 calibre (a movement that has already had a great success in many Big Bang models) with the "barrel" design of the Spirit of Big Bang (a line from the brand's collection that is taking off), HUBLOT was not about to settle for making just a few minor adjustments. In the spirit of the great art of watchmaking, where a "barrel" frame must hold a calibre with the same shape, the engineers were tasked with revising the whole construction of the movement so that it would fit in the new space available as efficiently as possible from a technical aspect – and as harmoniously as possible on an aesthetic level.
 
The magic of a construction set
The new HUB1233 calibre retains the basic principles of the manual-winding skeleton MECA-10 factory movement, with its parallel twin barrel and exceptional 10-day power reserve displayed in an unusual way. At 12 o'clock, there are two racks sliding on a line between 9 o'clock and 3 o'clock with an innovative new rack and pinion, whilst the opening at 3 o'clock shows the number of days left on the power reserve. It is an entertaining and high-performance display. Another technical and aesthetic feature is also reflected in the round movement: the usual plate is replaced by bridges with a fixed length on either side of a ring that serves as a base for the movement – a highly original architecture that brings to mind the perforated "joists" of a construction set. Clever skeletonising of the components draws the eye to the heart of the mechanism, with a fascinating effect of depth, whether you look from the side of the dial or through the transparent back cover. The technical appearance of the whole is lifted by the contrast between parts made from crude steel with satin or polished finishes and parts with blackened finishes. The central display of the hours and minutes is completed by a small second hand at 9 o'clock, next to the balance and the hairspring that keeps time with total precision. Thanks to the 10-day power reserve, HUBLOT was able to design the mechanism in manual mode – delighting everyone who likes to feel at one with their watch by giving it a regular boost of power.
Three variations with the same DNA
With its six H-screws crossing through the bezel, the lugs on either side of the dial, its highly-readable hands that are enhanced with a luminous coating, its imposing crown that facilitates winding and its bezel strap attachments, the Spirit of Big Bang MECA-10 has all the features of the original famous Big Bang, HUBLOT's flagship model, in a "barrel" shape. The construction of the case also declares its identity loud and proud, with an innovative "sandwich" principle that makes it possible to vary and blend an infinite number of materials. This new watch from the manufacturer's workshops is available in three versions, each with their own personality. The Spirit of Big Bang MECA-10 Black Magic, released via the WeChat Member Centre, pays tribute to high-tech black ceramic, a material of the future that has been mastered only by HUBLOT, whilst the other is dressed in 18-carat King Gold, an exclusive alloy of gold and platinum that offers a new and alluring red-gold colour. The third is dressed in ultra-robust and ultra-light grade 5 titanium. The rubber strap with a lined texture, with a deployment clasp, offers optimal durability and an excellent level of comfort on your wrist.
April 27, 2020